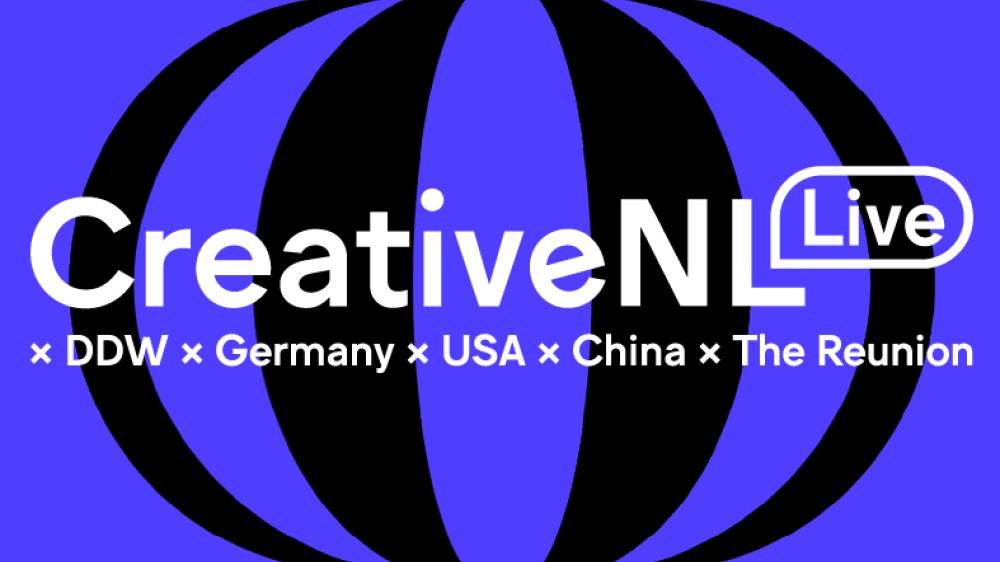 CreativeNL* encourages and supports creative entrepreneurs to succeed abroad and make a social impact.
Watch all the shows below:
Monday October 24 3-5 p.m. GERMANY
About social innovation and doing business in Germany (see the show here return)
Or read the afternoon report: Highlights Germany Day: "There are enough resources and enough opportunities"
Tuesday, October 25 3-5 p.m. US
About spatial design, digital design in a hybrid world and Dutch innovation during SXSW and do business in the UNITED STATES (see the show here return)
Or read the afternoon report: USA Day Highlights: "Detroit Seems to Be Fertile Ground for Dutch Creativity"
Wednesday 26 October 2.30-4.30 p.m. and 5-6 p.m. CHINA
About the bonding design (watch the show here back), circular design and doing business (watching the show here back in China
Or read the afternoon report: China Day Highlights: "The volume of trade is so big, you can have a lot more impact there" (+ a movie premiere!)
Thursday 27 October 10.30-11.30 a.m. and 4-5 p.m. REUNION
About immersive content (watch the broadcast here return and The meeting "for new testaments and experts, and experienced experts in business, education and government in the field of international affairs" (watch the show here return)
Or read the afternoon report: Highlights Reunion: towards the construction of bridges and international networks
Also read the interview here Bert Hagendoornco-founder of Dutch Digital Design, on his vision of international trade: 'Crises can make you gloomy, it's better to look at the power of innovation and creation'
*) About CreativeNL
CreativeNL, your guide to creating around the world, is the internationalization portal of the Top Sector Creative Industry, which encourages creative professionals to do business overseas and brings them to the attention of overseas customers. With a share of 29.5%, the Netherlands is the world's leading exporter of creative services. By expanding this further, in a way that makes the world a better place, CreativeNL wants to set the tone.